297 St. Jean Blvd.
Pointe Claire, Québec
H9R 3J1
514-697-2280
Opening Hours:
Monday
8h30 to 18h00
Tuesday
8h30 to 18h00
Wednesday
8h30 to 18h00
Thursday
8h30 to 18h00
Friday
8h30 to 18h00
Saturday
8h30 to 17h00
Sunday
10h00 to 17h00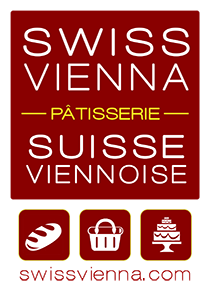 Delicious morsel for every taste
The culinary wonder of Swiss Vienna Patisserie is nestled in a small shopping mall on the West Island of Montreal. A successful family run business for over 3 generations.
As you open the door, the aroma of homemade baked goods awaken your senses, and the welcoming knowledgeable staffs is always eager to help you choose the best items from around the world.
The shelves are filled with a vast variety of local and international goods, our signature items, delectable chocolates, jams, mustards and cookies that brings back childhood memories and so much more…a visit to this pastry shop guarantees a delicious morsel for every taste.
The pastry and cake counters are plentiful with daily fresh baked homemade goods, from cake pops, French pastry, cakes, breads, rolls, ethnic delicacies to that special customized designer cake. The choices are limitless.
Special occasion, no worries, Swiss Vienna Patisserie can design and bake the cake of your dreams, combined with the flavors that guarantees to entice your palette.
The lunch bar has a multitude of freshly made sandwiches, on homemade rolls along with a selection of assorted salads. Stop by; pick up lunch or dinner from our ready-made counter.
Swiss Vienna Patisserie stands for tradition, good service, and excellent products. Visit and bring the family. Start your own tradition!
.
Come visit us